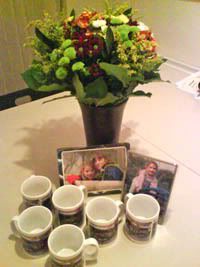 Here's the picture you've all been waiting for.... well almost. You see Mandy (the proprietor of Fabulous Photo Gifts), the same Mandy that is an award winning digital photo artist and has won national awards as well as selling her images worldwide, the same Mandy that is a whizz with digital photographic manipulation.... doesn't like having her photo taken.
So instead of a picture of her with her beautiful bouquet, I've had to settle for a picture of the bouquet amidst a bulk order of
personalised photo mugs
she was wrapping and preparing to post out, at the time.
We're really in the thick of those precious Christmas orders now, so if you're thinking of ordering a personalised photo gift for someone as a Christmas present, then don't leave it to late. Last order dates have now been published -
click here
- to view them.
We'll see you there.